ReWilding Spring 2016
Zion National Park, UT
Located at the junction of the Colorado Plateau, Great Basin, and Mojave Desert regions, Zion National Park's unique geography and variety of life zones allow for unusual plant and animal diversity. Human habitation of the area started about 8,000 years ago with small family groups of Native Americans; the semi-nomadic Basketmaker Anasazi (300 CE) stem from one of these groups. In turn, the Virgin Anasazi culture (500 CE) developed as the Basketmakers settled in permanent communities. A different group, the Parowan Fremont, lived in the area as well. Both groups moved away by 1300 and were replaced by the Parrusits and several other Southern Paiute subtribes.
In 1909 the President of the United States, William Howard Taft, named the area a National Monument to protect the canyon, under the name of Mukuntuweap National Monument. In 1918, however, the acting director of the newly created National Park Service changed the park's name to Zion. The United States Congress established the monument as a National Park on November 19, 1919. The Kolob section was proclaimed a separate Zion National Monument in 1937, but was incorporated into the park in 1956.
The geology of the Zion and Kolob canyons area includes nine formations that together represent 150 million years of mostly Mesozoic-aged sedimentation. At various periods in that time warm, shallow seas, streams, ponds and lakes, vast deserts, and dry near-shore environments covered the area. Uplift associated with the creation of the Colorado Plateaus lifted the region 10,000 feet (3,000 m) starting 13 million years ago. Zion also has 2,000-foot Navajo Sandstone cliffs, pine- and juniper-clad slopes, and seeps, springs, and waterfalls supporting lush and colorful hanging gardens.
The geologic formations of Zion–formed over approximately 250 million years–record periods of time when this area was covered by a shallow sea; when huge, sluggish rivers, bordered by swamplands, meandered across the landscape; and when a vast desert–perhaps the largest on the planet–covered the region.
The park has more than a 1,000 species of plants ranging from tall, graceful cottonwoods growing along the river to towering pines and firs shading the higher elevations. Zion's plant communities, in turn, provide food, shelter, and nesting places for Zion's diverse wildlife. There are approximately 67 species of mammals, 29 species of reptiles, 7 species of amphibians, 9 species of fish, and 207 species of birds. Endangered California condors soar above the cliffs of Zion; threatened Mexican spotted owls–Zion has the highest density of these owls breeding in the state–live and raise their young in Zion's narrow canyons.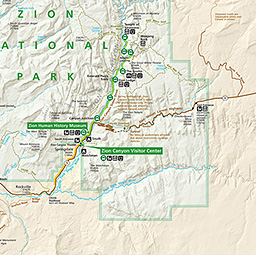 Student Comments
Dr. Pye and Dr. Paris brought a wealth of knowledge and care to the class and residency. Their passion for and dedication to the growth of each individual student was demonstrated clearly throughout the time. It was a very valuable experience.
I feel this was a once in a lifetime experience to be in deep and intimate conversation with Dr. Paris and Dr. Pye. I appreciate Dr. Paris' skillful and generous holding of the group through important and critical conversations. I learned a great deal about myself and feel privileged to have had a front row seat in the practice of Archetypal Psychology. Dr. Pye's ability to hold the deep and difficult material could not have been more skillful. That said, I'd like to see more time for being in and taking in the vistas and time in such a spectacular place!
Ginette's teachings and methods she brought to Rewilding were immensely helpful. Her approach allowed me to explore a deeper aspect of myself and tap in to imaginationand imagery that was strengthened by the support of the group. I walked away with useful tools and guidance. I have learned so much fom each of her books and have been able to relate to them on very personal levels. Ginette opened up a new world for me psychologically, and facilitated a group energy that helped everyone grow and learn from each other.
Dr. Pye was extraordinary at ReWilding. Her care, understanding, and thoughtfulness was beyond words. She knew exactly what to ask of us and how to gently move us to another level of being with ourselves. She was the perfect guide on a journey of self-discovery.
Wow – what a Re-Wilding it was!!
There were three distinct parts of learning, as I experienced them:
1) Learning how to apply the concepts we've been learning about, therapeutically
2) Learning how to process it in our own lives
3) Learning how to receive the process, from ourselves, our cohorts, and Ginette & Lori.
Invaluable, and a time of rich growth, indeed.
Dr. Paris' commitment to us as a class – our learning, application and personal growth – was so apparent. She worked HARD! I know there was prep time and thought involved with our stories as well. Witnessing and experiencing the practical application of our lectures and reading was a really wonderful opportunity. I am so grateful for this level of learning, and the dedication of professors like Dr. Paris, who are so committed to this work and teaching it in ways that with time and continued learning, we will be able to carry it forward.
Dr. Pye's ability to lead this school, to teach and to interact with us in such a sincere and fun way has continued to make an impression. The intention to truly care for us while teaching, to understand that this work takes us to vulnerable places within is clear. She's clear about where it will/or can take us – and I appreciate that. I appreciate it for the opportunity to grow, but so much also for the experiential learning. I have wondered what this work looks like in practice, and I saw it. I realize there are many ways to apply it, but really getting into what the potential is for imagery and change was a really wonderful experience.
I never imagined finding a doctoral program that would offer me all that Viridis has been offering. Of course, now I realize I knew so little about imagining… :-). So looking forward to another quarter!